A Date With Science – ITM Academic Seminar
25/05/2023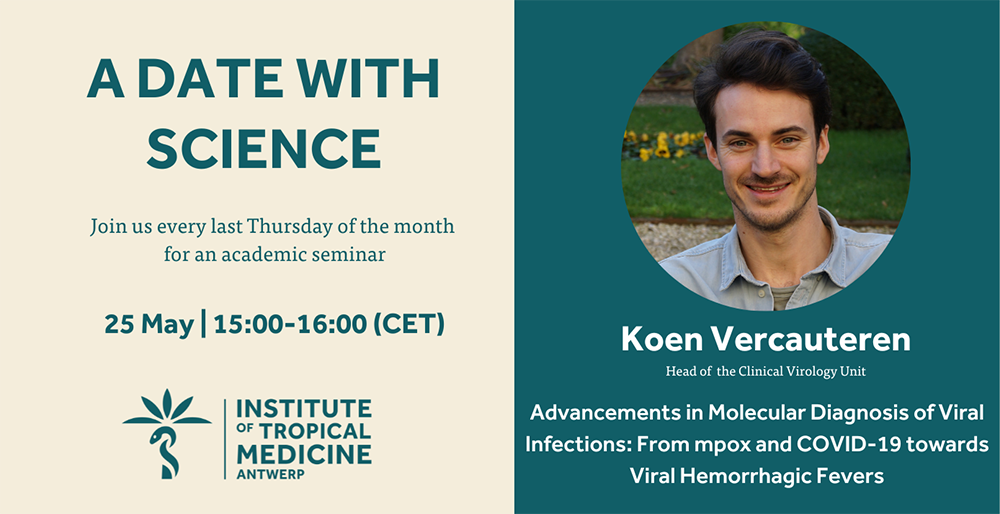 'Advancements in Molecular Diagnosis of Viral Infections: From mpox and COVID-19 towards Viral Hemorrhagic Fevers' by Koen Vercauteren
This seminar is a part of ITM's 'A Date with Science': a series of academic seminars that take place every last Thursday of the month, live in Antwerp followed by a drink and online.
Programme:
3pm – 4pm: Academic seminar in aula Janssens (and online)
4pm – 5.30pm: Drink in Karibu at ITM
Speaker: Koen Vercauteren
Title: Advancements in Molecular Diagnosis of Viral Infections: From mpox and COVID-19 towards Viral Hemorrhagic Fevers
Register: Please register to attend in person or to follow online
Abstract:

The unit of Clinical Virology employs molecular laboratory technologies to diagnose and investigate viral infections. Koen will discuss metagenomic and targeted viral sequencing applications in mpox, a proof-of-concept diagnostic tool based on T cell receptor sequencing in COVID-19, and lab-on-a-chip molecular detection ambitions for viral hemorrhagic fevers. Finally, he will discuss the contributions of the clinical reference laboratory to the ITM mpox study group in trying to gain laboratory and clinical virologic understanding of last summers' mpox outbreak.
Short Bio:

Koen obtained his master (Pharmaceutical Sciences) and PhD (in pre-clinical viral hepatitis research) at the Ghent University. He continued his academic track in pre-clinical viral hepatitis research and viral vectors for gene therapy as a post-doc at Rockefeller University NYC, before obtaining his specialty degree in clinical laboratory medicine at the UZ Gent.
Since 2019, Koen is professor at ITM, leading the clinical virology unit and working as clinical biologist at the ITM clinical reference lab. His unit researches and applies molecular diagnostic techniques (like T-cell receptor biomarkers, sequencing-based broad detection techniques, and Point of Care testing) methods to diagnose and study viral infectious diseases (like mpox, COVID-19 and viral hemorrhagic fevers).