ITM alumni webinar series featuring the winners Prize for Global Research 2023 of the Province of Antwerp
16/11/2023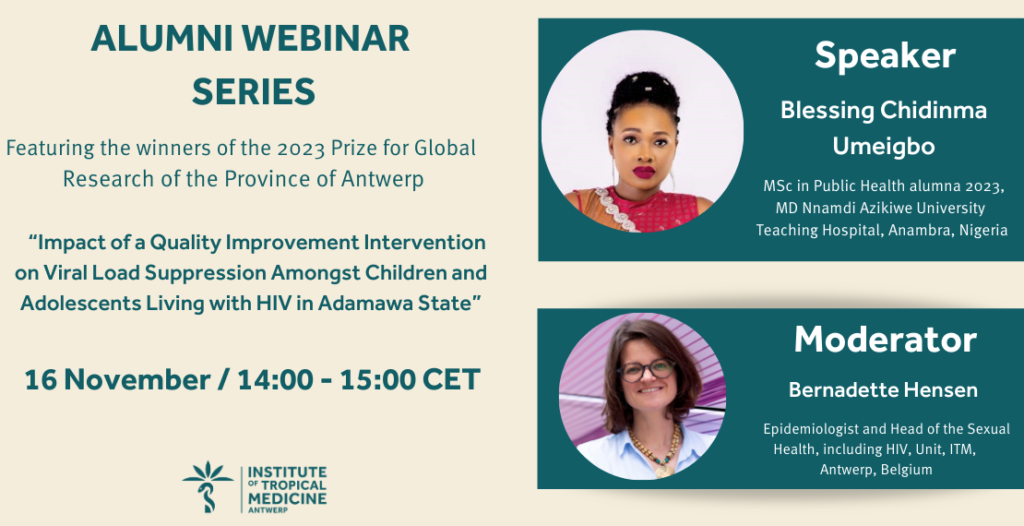 ITM alumni webinar #4: « Impact of a Quality Improvement Intervention on Viral Load Suppression Amongst Children and Adolescents Living with HIV in Adamawa State »
16 November, 14:00 – 15:00 CET (Belgian time)
This new series of ITM alumni webinars features the four ITM winners of the Prize for Global Research 2023. The Prize for Global Research is awarded yearly by the Province of Antwerp to research projects of 'master-after-master'-students of ITM and other Higher Education Institutes. Development relevance, quality and originality of the master theses are key in the selection. Through this award, the Province of Antwerp wants to stimulate global research.
In webinar #4, MPH-alumna and laureate Blessing Chidinma Umeigbo (Nigeria) will share insights from her master thesis, entitled « Impact of a Quality Improvement Intervention on Viral Load Suppression Amongst Children and Adolescents Living with HIV in Adamawa State ».
In her thesis, Blessing Umeigbo used the opportunity of her thesis work to evaluate the impact of the QI intervention on viral load suppression among CALHIV (aged 0-19 years) who had been receiving ART. She did a retrospective analysis of the data from CALHIV who received care guided by the QI intervention and compared their outcomes to those of CALHIV receiving care at facilities providing standard of care.
Her findings are in line with previous studies and suggest a positive impact of the QI intervention on viral load suppression among CALHIV, which was sustained after the intervention period. She recommends Public Health practitioners to use methods that involve context-specific community participation, like QI, to strengthen health systems.
Blessing will present the main findings and outcomes of her thesis and discuss her recommendations and conclusion. The Q&A-session, moderated by Bernadette Hensen, her thesis supervisor, will enable to answer questions from the audience and to share experiences from other contexts.
SPEAKER
Blessing Chidinma Umeigbo, MPH-alumna 2023, MD Nnamdi Azikiwe University Teaching Hospital, Anambra, Nigeria
MODERATOR
Bernadette Hensen, Epidemiologist and Head of the Sexual Health, including HIV, Unit, Institute of Tropical Medicine, Antwerp, Belgium

Thank you for sharing this information within your networks!