ITM alumni webinar: Embracing cultural diversity in public health research
25/05/2022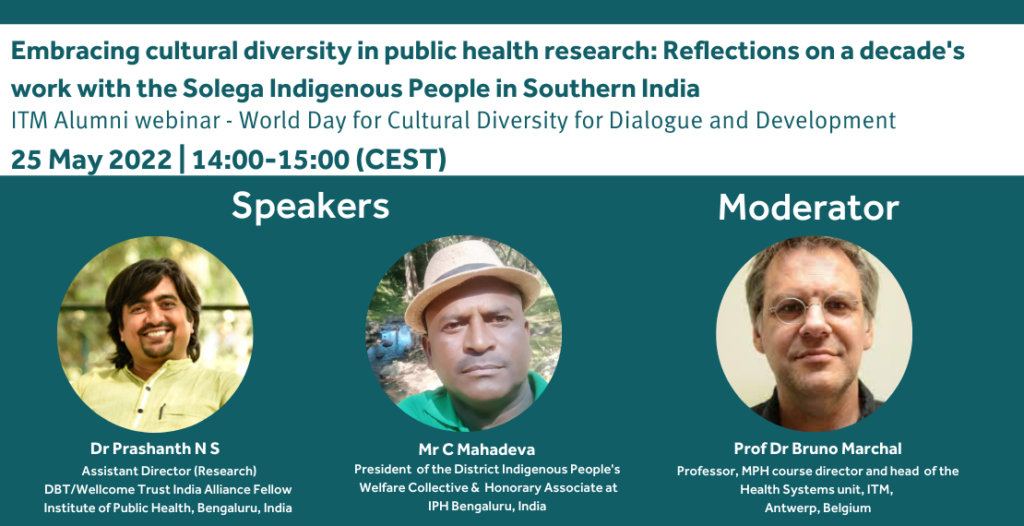 ITM Alumni webinar: "Embracing cultural diversity in public health research: Reflections on a decade's work with the Solega Indigenous People in Southern India"
Register in advance via Zoom.
Description
In light of the celebration of 'World Day for Cultural Diversity for Dialogue and Development' on May 21st, ITM PhD alumnus and Assistant Director Research from the Institute of Public Health in Bengaluru, Dr Prashanth N Srinivas, will share his experience in working in community settings in southern Karnataka, India. He will be joined by Mr. C Mahadeva, President of theDistrict Indigenous People's Welfare Collective and Honorary Associate at IPH Bengaluru. Starting from their engagement with the Soliga communities in BR Hills, they will talk about the lessons learnt and challenges for researchers working with and across culturally diverse indigenous communities in India. The question on how to deal with cultural identities and diversity in care and in public health services will also be further explored.
The Q&A-session will be moderated by Prof Dr Bruno Marchal, MPH-director and head of the Health Systems unit at ITM.
Speakers:
Dr Prashanth N Srinivas, Assistant Director Research, Institute of Public Health, Bengaluru, India
Mr. C Mahadeva,President of the District Indigenous People's Welfare Collective and Honorary Associate at IPH Bengaluru, India
Moderator:
Prof Dr Bruno Marchal, MPH-director and head of the Health Systems unit @ Institute of Tropical Medicine, Antwerp, Belgium