Call for Abstracts ANSER Conference, deadline 15.10.2023
21/09/2023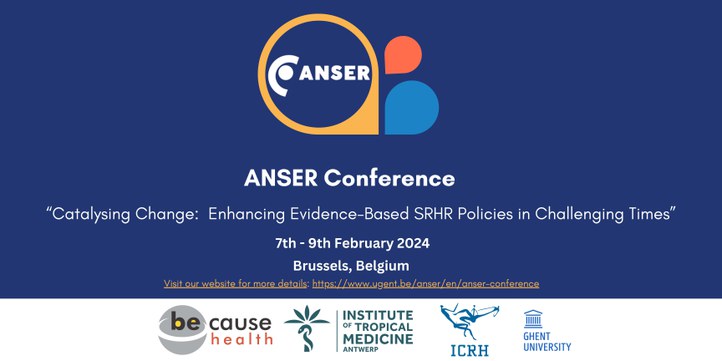 Be-cause health, IRCH, Ghent University and the Institute of Tropical Medicine, Antwerp (ITM) are co-organising the next ANSER conference on 'Catalysing Change: Enhancing Evidence-Based Sexual and Reproductive Health and Rights (SRHR) Policies in Challenging Times'. The conference aims to enhance collaboration between policymakers, academics and programmatic experts to advance SRHR knowledge & interventions, shape policies and drive societal change.
+++
This conference will bring together renowned researchers, policy-makers, advocates, and programme implementers from around the world to examine the multifaceted dimensions needed to re-energise the SRHR agenda. During the Scientific Conference days, insightful keynote speeches, presentations, and interactive panel discussions will be organised to set the scene, share innovative ideas and provide insights for future research and policy-making. In addition, workshops will be given to teach new skills to the participants.
+++
The Policy Impact Conference Day unites academics, policy-makers, and civil society to cultivate future collaborations. By facilitating dialogue and shared insights, the event aims to foster dialogue, exchange knowledge and inspire collective action towards increased evidence-based policy-making in SRHR.
+++
A call for abstracts is now open! Deadline is the 15th of October 2023. Students and young professionals are proactively encouraged to apply. We are exploring the possibility of setting up a mentoring system during the conference and a meet and greet with members of the federal Belgian parliament (MPs) on the third day of the conference.
---