ITM alumni webinar #2: « How to Assess Health System Resilience? A scoping review »
06/10 - 06/10/2022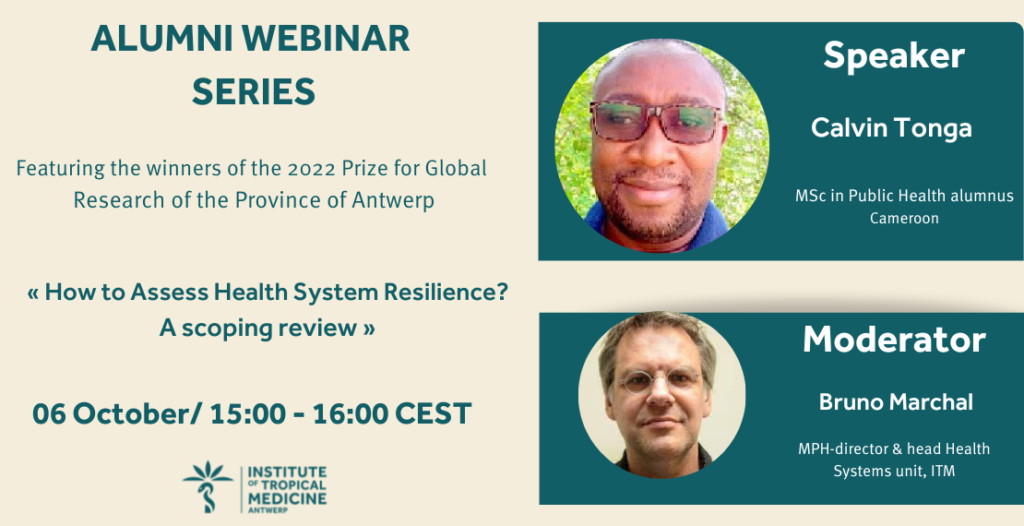 This new series of ITM alumni webinars features the four ITM winners of the Prize for Global Research 2022. The Prize for Global Research is awarded yearly by the Province of Antwerp to research projects of 'master-after-master'-students of ITM and other Higher Education Institutes. Development relevance, quality and originality of the master theses are key in the selection. Through this award, the Province of Antwerp wants to stimulate global research.
In webinar #2, MPH-alumnus and laureate Calvin Tonga (Cameroon) will share insights from his master thesis, entitled« How to Assess Health System Resilience? A scoping review »
In his thesis, Calvin focused on the performance of health systems and the influence of shocks, such as global warming, emerging infectious diseases, urbanisation, and demographic and epidemiological transitions provoked by aging populations. He quickly realised he should concentrate on resilience, a notion receiving a lot of attention in the world of health systems research since the Ebola epidemics in West Africa. Struck by the apparent multitude of definitions of resilience and the lack of consensus on how to measure resilience, Calvin decided to carry out a scoping review of assessment methods of resilience. Building upon the results of his scoping review, he developed an innovative framework which incorporates the three main assessment approaches: system mapping, capacity-based assessment and the strategy-based assessment. He also recommended further testing of the framework in different contexts in order to refine it.
Calvin will present the main findings and outcomes of his scoping review, and discuss the theoretical framework he developed to assess Health Systems Resilience. The Q&A-session, moderated by Bruno Marchal, MPH-director and Calvin's thesis co-supervisor, will enable to answer questions from the audience and to share experiences from other contexts.