ITM Alumni webinar
05/10/2023
ITM alumni webinar #2 Prize for Global Research 2023:
"Development of Antepartum Risk Prediction Model for Postpartum Haemorrhage in Lagos, Nigeria"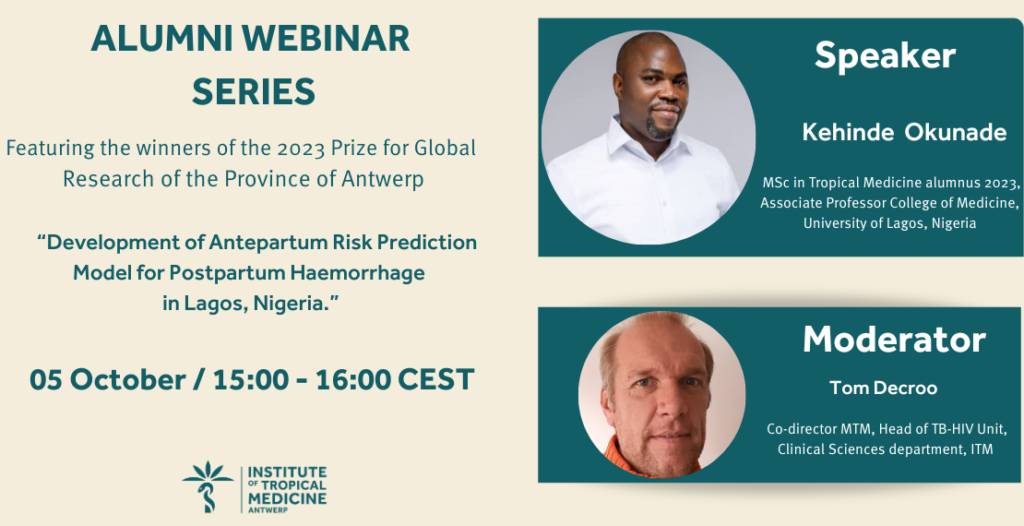 This new series of ITM alumni webinars features the four ITM winners of the Prize for Global Research 2023. The Prize for Global Research is awarded yearly by the Province of Antwerp to research projects of 'master-after-master'-students of ITM and other Higher Education Institutes. Development relevance, quality and originality of the master theses are key in the selection. Through this award, the Province of Antwerp wants to stimulate global research. 
In webinar #2, MTM-alumnus and laureate Kehinde Sharafadeen Okunade (Nigeria) will share insights from his master thesis, entitled "Development of Antepartum Risk Prediction Model for Postpartum Haemorrhage in Lagos, Nigeria (Predict-PPH study)."
Maternal postpartum haemorrhage (PPH) is the leading cause of maternal morbidity and mortality in Nigeria and worldwide. There is currently a limited ability to accurately identify women at risk of this obstetric complication. Kehinde Okunade conducted the "predict-PPH" study to determine the prevalence and predictors of PPH, develop an antepartum prediction model, and then evaluate the performance of the model and its derived risk-scoring system.
Kehinde will present the main findings and outcomes of his thesis. The Q&A-session, moderated by Tom Decroo, his thesis supervisor, will enable to answer questions from the audience and to share experiences from other contexts.