"Seeing the Unseen. The case for action in the neglected crisis of unintended pregnancy"
30/03/2022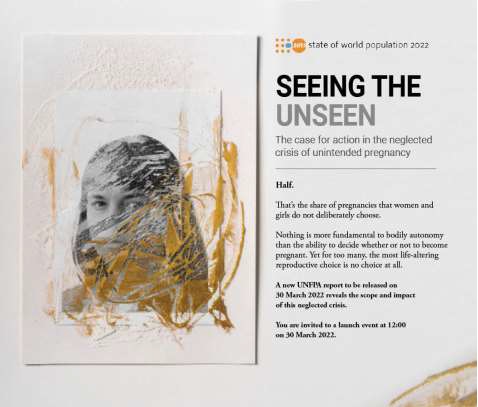 The Parliamentarians for the 2030 Agenda and UNFPA Brussels' cordially invite you to
The Belgian launch of UNFPA's State of the World Population 2022 report "Seeing the Unseen. The case for action in the neglected crisis of unintended pregnancy"
on Wednesday, March 30th, 12:00-13:00 In Belgium's Senate and live on Zoom.
Nearly half of all pregnancies are unintended, a startling 121 million each year throughout the world. Deciding to become pregnant or not is fundamental to bodily autonomy. Yet for too many, the most life-altering reproductive choice is no choice at all.
This year's State of World Population report brings together the latest evidence on unintended pregnancy and its impact on individuals, societies, countries and global development overall. The report also inquires into the reasons for the non-use of contraceptives and presents ways forward to overcome this crisis.
PROGRAMME
Presentation of the SWOP 2022 report by Ian McFarlane, Director, Division for Communications and Strategic Partnerships, United Nations Population Fund
Followed by a conversation on
• The reasons behind Belgium's success' in the prevention of unintended pregnancies, with Wannes Magits, youth policy advisor and Sarah Hulsmans, reproductive health policy advisor for Sensoa
• Prevention of unintended pregnancies among young people in Low Income Countries: good practices from the field by Hayathe Ayeva, YAM President in Togo
• Belgium's international role in the prevention of unintended pregnancies by DGD Director Heidy Rombouts (tbc)

Moderation by Senator and Chair of the Parliamentarians for the 2030 Agenda, Fourat Ben Chikha.
Interpretation ENG-FR, FR-ENG will be provided.
You can participate via Zoom by registering here.
Parliamentarians are invited to join the launch in 'Salle D' of the Senate.