Climate Justice and Health Equity
23/11 - 24/11/2021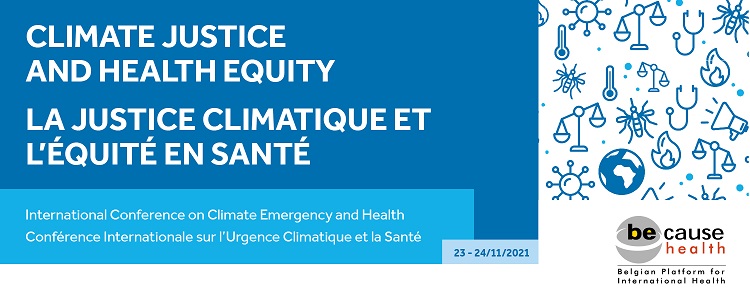 International conference on Climate Emergency and Health
INTRODUCTION
While the world struggles with the COVID-19 pandemic, the accelerating health crisis, induced by the climate emergency, requires our even more urgent attention. No community – much more so for a poor than a rich – is immune from the health impacts of climate change. People around the world face increasing extremes of heat, food and water insecurity, and changing patterns of infectious and chronic diseases. Unless urgent action is taken, the health impacts of the climate emergency will bring further disruption, threaten lives and livelihoods and compromise the health systems we depend on.
The COVID-19 pandemic and climate emergency represent converging crises. At the same time, climate emergency and epidemiological changes share common drivers. It is imperative that these emergencies are addressed in a comprehensive manner, while acknowledging public health needs, inequalities and historic injustices.
Our 2021 annual conference, entitled 'Climate Justice and Health Equity', aims to look into the interlinkages between climate change and disease trends and underlying causes , with a focus on public health impacts in LMICs, and will explore possibilities to mitigate and adapt to the pending emergency. It will look in detail to the pathways and interrelations through which the climate emergency may impact health outcomes.
Be-cause health – the Belgian platform for International health – is a pluralistic and open platform. Our annual conferences connect Belgian and international health professionals, researchers and policy advisors to exchange latest research findings and field experiences and draw policy oriented lessons.
The 2021 conference will discuss how global health organisations and health workers address the climate emergency in their health activities and programmes. Moreover, participants learn and exchange on how transformation could be enabled given that an urgent shift to a circular and socially just economic system, that respects the planetary boundaries, is required.
Participant contributions from their different fields of experience and disciplines will take advantage of recent advances in climate sciences, technologies and services as well as lessons learnt from communities affected by extreme weather events and climate variations. Also, we are witnessing improved capacities in risk forecasting, warning and management. This is a window of opportunity for the health sector to adjust its universal coverage strategies as climate emergencies affect at most the vulnerable population groups.
The following main questions will guide the conference:
How does the climate emergency impact public health outcomes?
How could health stakeholders and health systems adapt to and mitigate ecological change?
How to develop resilient health systems in Low-and Middle Income countries?
What are the priorities in the field of health to transform to a circular and socially just economic system, that respects the planetary boundaries?
What would be the role of health and development organisations in contributing to such a transformation?
The conference is not an end, but a starting point and will lead to the creation of a Be-cause health working group on Climate Justice and Health Equity. The working group will take forward the key outcomes of the conference and will develop a range of activities that will focus on the climate emergency, transformation and how global health stakeholders could contribute to this.
---
PRELIMINARY PROGRAMME 23 – 24 November (under construction)
Continuous: network event through digital platform
Moderator: Annabelle Van Nieuwenhuyse (FM Brussels, Belgium)
23 November 2021: What it's about? (online)
10:00 am Plenary session:

Welcome and introduction to the programme by Magalie Schotte (Be-cause health, Belgium)
Opening testimony by Hilda Flavia Nakabuye (Fridays for the Future, Uganda)
Key note: setting the scene by Sabine Gabrysch (Potsdam Institute for Climate Impact Research, Germany) and Ben Eder (Medact, UK)

11:30 am Coffee break
11:40 am Breakout session 1
12:40 Lunch break
01: 10 pm Breakout session 2
02:10 pm Breakout session 3
03:10 pm Coffee break
03:20 – 05:00 pm Plenary session

Moderation by Annabelle Van Nieuwenhuyse (FM Brussels, Belgium)
International panel discussion (speakers) and Q&A
Feedback from the workshop sessions

Closure by Elies Van Belle (Be-cause health, Belgium)
24 November 2021: What can be done? (hybrid at the ITM, Antwerp)
09:30 am Welcome coffee
10:00 am Plenary session

Welcome by Be-cause health
Key note: setting the scene

11:00 am Coffee break
11:30 am Breakout session 1
12:30 Lunch break
01: 30 pm Breakout session 2
02:30 pm Breakout session 3
03:30 pm Coffee break
04:00 pm Plenary session:

International panel discussion
Closure by Be-cause health
---
Depending on the COVID-19 regulations that apply at the time of the conference, speakers and participants will be able to join the conference physically or online.
COVID-19 made us inventive in looking for ways to meet each other. For a network as Be-cause health, hybrid forms of conferences could enable great opportunities to engage more participation from our partners in low- and middle-income countries and emit less carbon. We will experiment with this hybrid format as a pilot for future conferences.
Interpretation between English and French will be provided. Participation is free, but registration is obligatory. Registrations for the conference at ITM are limited and the hybrid event will be organised according to the then-current COVID 19 regulations. Register at the latest by 15 November (on a first come first serve basis for the part at the ITM) and by 22 November (for the online part).
---
Thank you to share this seminar within your networks. You can also use this flyer, which you can download here.
---
A taskforce of Be-cause health members has, on a voluntary basis, supported the set-up of the programme and the practical organisation. A scientific committee has, also on a voluntary basis, reviewed the abstracts and selected the speakers presenting at this conference. The platform diversity is well represented within the taskforce and the scientific committee.
The supporting partners of the conference are the Institute of Tropical Medicine (ITM) in Antwerp that hosts our platform and facilitates the organisation of this conference and the Belgian Ministry of Foreign Affairs / DG Development Cooperation.