Calls for proposals
07/06/2019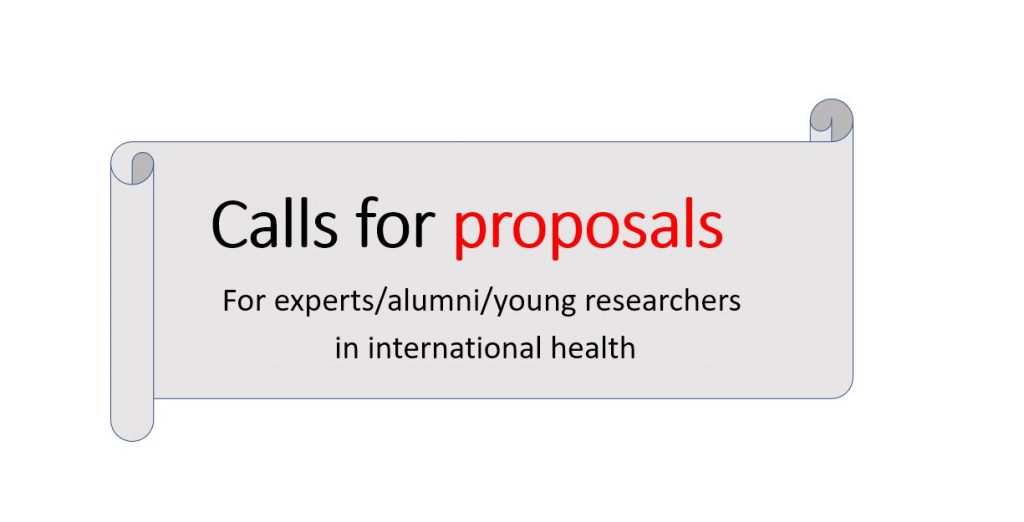 A number of calls for proposals has been opened recently for experts, alumni and/or young researchers in the field of international health. This is an overview:
60th Colloquium of the Institute of Tropical Medicine Antwerp, 9 & 10 October – Deadline 16 June
ITM invites researchers to submit abstracts for poster presentations at the 60th ITM Colloquium. During this event, the current challenges of global health will be addressed, with a specific focus on migration, climate change and technological innovation. More information about the colloquium is available at https://colloquium2019.itg.be/ and the call for abstracts at https://colloquium2019.itg.be/call-for-abstracts/.
***
Be-cause health conference on Urban health, 15 & 16 October – Deadline extended until 30 June
Two out of every three people are likely to be living in cities or other urban areas by 2050. How to achieve universal access to health in cities? We are looking for short stories of experiences and research findings that illustrate opportunities and challenges with regard to health care in cities. An international conference on Urban Health will take place in Brussels on 15 and 16 October 2019. A call for stories and abstracts is open until 30 June. Check the call and the preliminary conference programme.
***
HSR2020: Re-imagining health systems for better health and social justice – Call from September 2019 onwards
The Sixth Global Symposium on Health Systems Research will be held in Dubai in November 2020. Calls for abstracts for individual presentations and organized sessions will be launched on 12 September 2019. The deadline for organized session submissions will be 14 November 2019. The final date for individual abstracts to be submitted will be 6 February 2020. Read more on the themes and subthemes via the HSR2020 website.
***
PhD Scholarship Call 2019 of the Institute of Tropical Medicine – Deadline 15 September
ITM launches the 'Individual Sandwich PhD Scholarship Call 2019' with deadline for submission 15 September 2019. In the 2019 call round, the Institute of Tropical Medicine (ITM) in Antwerp will award maximally five PhD fellowships to outstanding alumni from its international Master and expert courses, as part of a comprehensive capacity strengthening programme supported by the Directorate General for Development (DGD). Read the call carefully to know more about the eligibility criteria, selection criteria and guidelines for submission.