Minister De Croo and Belgian actors from the international health cooperation sign commitment on quality of medicines
26/10/2017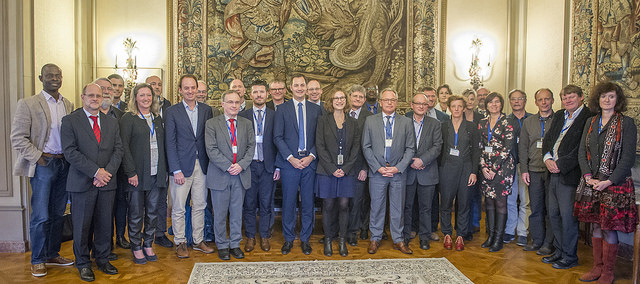 Belgian development cooperation will better monitor the quality of pharmaceutical products in developing countries
For this purpose, Deputy Prime Minister and Minister for Development Cooperation Alexander De Croo signed today, together with NGOs, research institutes and other actors from the international health cooperation, a declaration of commitment. About a fourth of medicines are estimated to be of bad quality in countries where the Belgian Development Cooperation is active. Minister De Croo underlines that  "This has catastrophic effects on the health of people who are already very fragile".
The access to quality pharmaceutical products for all is a priority of the Belgian Development Cooperation:  22% of Belgium's Official Development Assistance – ODA in the health sector are allocated to the purchase of medicines, which underlines the importance of this agreement. This commitment makes also part of the implementation of the Agenda 2030 for Sustainable Development.
"Using quality pharmaceutical products seems granted, but it is not. In the environment in which the Belgian Development Cooperation operates, it is estimated that more than a fourth of pharmaceutical products are of bad quality" confirms Alexander De Croo.
The Belgian initiative will protect the health of patients who benefit from programmes financed by the Belgian Development Cooperation. In the longer term, it could reduce the continuing progression of resistance to antimicrobials. It could also have an impact on the quality of pharmaceutical products circulating in the global pharmaceutical market.
Belgian organisations – in majority members of the platform Be-cause health and engaged through the working group on medicines – committed themselves to strengthen a quality assurance (QA) system for medicines, vaccines, small medical materials and diagnostic materials through a "Charter" developed in 2008 by the platform Be-cause health. The 'Commitment' signed today by Minister De Croo and the concerned Belgian organisations, represents a political and strategic agreement to ensure quality of pharmaceutical products in the programmes financed by Belgian Official Development Aid (ODA).
With this commitment, Belgium becomes the first bilateral donor and the first Member State of the European Union to propose a response to the issue of the quality of pharmaceutical products. Our country's good practices are looked at as being both innovative and inspiring by other EU Member States.
The declaration of commitment was signed by Minister De Croo, together with:
Institute of Tropical Medicine
Association pour la Promotion de l'Education et de la Formation à l'Etranger
Académie de Recherche et d'Enseignement supérieur
Médecins Sans Vacances
Société belge d'Investissement pour les Pays en Développement
La Chaine de l'Espoir Belgique
La Croix-Rouge de Belgique Communauté francophone
La Coopération Technique Belge – De Belgische Technische Coöperatie
Action Damien – Damiaanactie
Handicap International
Lumière pour le Monde
Médecins du Monde – Dokters van de Wereld
Memisa Belgique – Memisa België
Solidarité Socialiste – Formation, Coopération et Développement
Vlaamse Interuniversitaire Raad
Vétérinaires Sans Frontières – Dierenartsen Zonder Grenzen
Solidarité Mondiale, Wereldsolidariteit & Mutualités Chrétiennes – Christelijke Mutualiteiten
Are you interested to know more about the declaration of engagement ?
Learn more from colleagues, pharmacists and researchers, share your experiences, recent research findings within the working group on access to medicines of Be-cause health.
Stay informed via the newsletter.