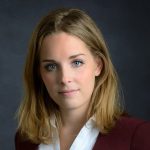 Kim Van Daalen
Researcher Global Public Health, University of Cambridge, UK
Background
Kim is conducting a PhD in Global Public Health (Public Health and Primary Care) under the supervision of Dr. Adam Butterworth and Dr. Rajiv Chowdhury, funded by the Gates Cambridge Scholarship. She graduated Cum Laude (GPA 4.0) with a BSc in Biomedical Sciences combined with an additional interdisciplinary BSc honors in program from the University of Utrecht, the Netherlands in 2016. She did part of a MSc in MSc in Cancer, Stem Cells & Developmental Biology (not completed) combined with an interdisciplinary MSc honors program focused on social entrepreneurship at the University of Utrecht. After this she conducted a MPhil in Public Health, partly funded by a Public Health Award from Murray Edwards College.
Research Interests
Kim has a broad research interest. Mostly related to i) the interaction between the environment, climate change and global health and ii) health inequalities.
Her current PhD research is focusing on environmental toxic metal contaminants and risk of cardiovascular disease in South Asia.
Publications
Chowdhury R, Lawrence R, Daalen K van, Hawkes S, Feldmann J. Reducing NCDs globally: the under-recognised role of environmental risk factors. The Lancet. 2018 Jul 21;392(10143):212.