EcoHealth seminar ITM
01/06 - 01/06/2023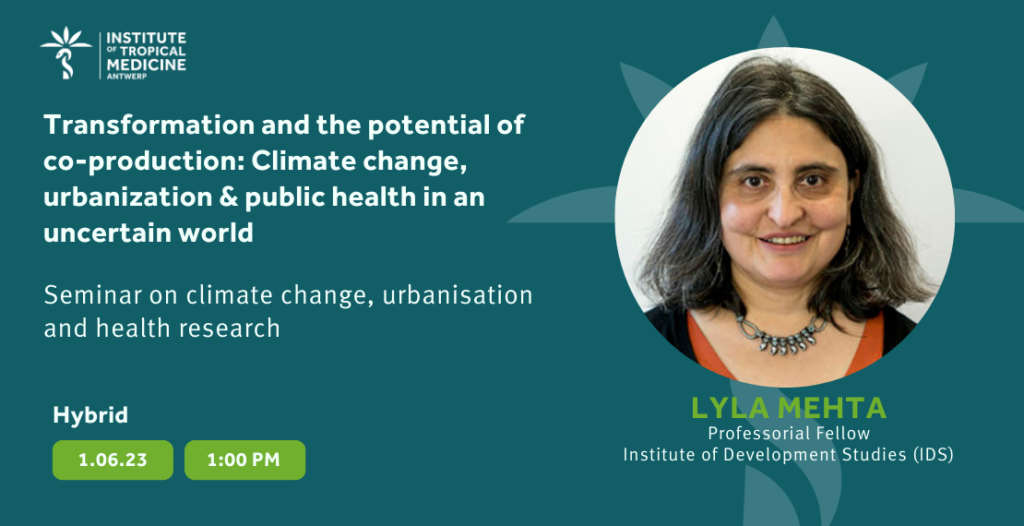 Transformation and potential of co-production:
Climate change, urbanisation & public health
Guest: Lyla Mehta, Professorial fellow IDS
Title: Transformation and the potential of co-production: Climate change, urbanization & public health in an uncertain world
Short bio: Professor Lyla Mehta is a Professorial Fellow at IDS. She trained as a sociologist (University of Vienna) and has a PhD in Development Studies (University of Sussex).
Her work focuses on water and sanitation, forced displacement and resistance, climate change, scarcity, rights and access, resource grabbing and the politics of environment/ development and sustainability. Her recent project focus on climate change, uncertainty and transformation in marginal environments and off grid sanitation in urban areas. She has extensive field research in India studying the politics of water scarcity, the linkages between gender, displacement and resistance, access to water and sanitation in peri urban areas and climate change.
Additionally, she has worked on the politics of water management in South Asia and southern Africa and community-led total sanitation and the power/knowledge interfaces in policy debates. Lyla has engaged in advisory work with various UN agencies and has also been active in advocacy and activist work on gender, environment and development issues with NGOs and social movements in Europe and India. She was the water and sanitation convenor of the STEPS Centre and is currently editor of the journal Environment and Planning E, Nature and Space.
Please register to attend or to follow online
New seminar series on climate change, urbanization, health research
The impact of climate change on ecosystems and its social, economic and political consequences are now widely acknowledged. The COP27 highlighted, yet again, the urgency and the difficulties to develop a broadly supported strategy to tackle the climate crisis. Rapid urbanisation is another challenge that will not abate in the near future. By 2050, 68% of the world's population will be urban. Yet, little research focuses on how health systems can be redesigned to meet the needs of residents living in urban contexts facing climate change and multiple concurrent challenges.
With this seminar series, we aim at connecting researchers and students to explore innovative ways to think about and to do research at the interface between health, climate change and/or urbanization. We are particularly interested in how health services can be improved, disease control programmes adapted, and policies developed to address these challenges.
This series is a collaboration between ITM's Ecohealth group —which adopts a whole systems approach in order to make sense of the dynamic interactions between human, social, biological, ecological and political systems and how that affects health—and the Thematic Global Network on Climate change, urbanisation and health (FA5). The series will start in March 2023 and will be open to ITM staff, students and alumni. Other researchers and students can participate upon registration.

For more info on this seminar series and the upcoming sessions, click here.