ITM alumni webinar #3: "Prevalence, risk factors for exposure, and socio-economic impact of peste des petits ruminants in Karenga district, Karamoja region, Uganda"
20/10 - 20/10/2022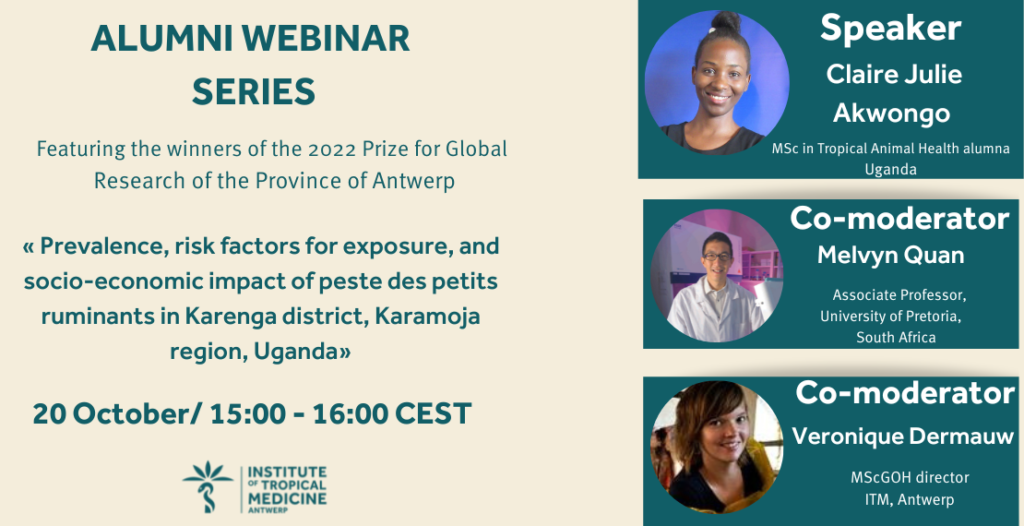 ITM alumni webinar series featuring the winners Prize for Global Research 2022 of the Province of Antwerp
Webinar #3: «Prevalence, risk factors for exposure, and socio-economic impact of peste des petits ruminants in Karenga district, Karamoja region, Uganda»
Description
This new series of ITM alumni webinars features the four ITM winners of the Prize for Global Research 2022. The Prize for Global Research is awarded yearly by the Province of Antwerp to research projects of 'master-after-master'-students of ITM and other Higher Education Institutes. Development relevance, quality and originality of the master theses are key in the selection. Through this award, the Province of Antwerp wants to stimulate global research.
In webinar #3, MSTAH-alumna and laureate Claire Julie Akwongo (Uganda) will share insights from her master thesis, entitled « Prevalence, risk factors for exposure, and socio-economic impact of peste des petits ruminants in Karenga district, Karamoja region, Uganda».
In her thesis, Claire focused on the Peste des petits ruminants (PPR), caused by small ruminant morbillivirus (SRM). PPR is a highly contagious disease of small ruminants, with a high socio-economic impact. Controlling PPR requires proper understanding of the epidemiological dynamics and impact in a range of geographical areas and management systems.
The study findings provide evidence to support the implementation of disease surveillance and control strategies to mitigate the impact of PPR in Karamoja and other pastoral areas in eastern Africa. Claire's work will serve as a reference for the development of a surveillance strategy for PPR in her district/country.
In this webinar, Claire will present the main findings and outcomes of her master thesis, demonstrating the importance of the disease in terms of livestock mortality and socio-economic impact for farmers, both in the country and in the region. The Q&A-session, co-moderated by Melvyn Quan, UP Associate Professor and Claire's thesis co-supervisor, and Veronique Dermauw, ITM director of the MScGOH, will enable to answer questions from the audience and to share experiences from other contexts.
SPEAKER
Claire Julie Akwongo, MSTAH-alumna 2022, Uganda
MODERATORS
Melvyn Quan, Associate Professor, University of Pretoria, South Africa
Veronique Dermauw, ITM director of the MScGOH, ITM, Belgium
Thanks for sharing the information within your networks!