Breaking taboos in Global Health
23/03 - 24/03/2023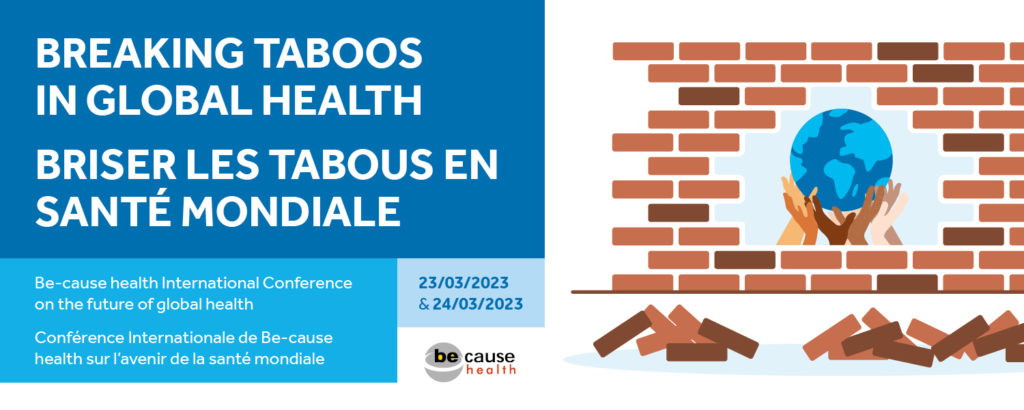 International Conference Be-cause health 23 & 24 March 2023
---
Introduction
For the French version, click here.
23 March: 2 – 5:30 pm CET, online
24 March: hybrid
Too many challenges in our global health activities remain unspoken today: colonisation and power, discrimination and racism, gender inequality, migration and the role of the diaspora, unequal access to essential health services and quality medicines, commercialisation of care, exclusion, climate justice, (health) equity and (de)growth.
During the 2023 Be-cause health international conference, we will deal with these " inconvenient truths" openly and respectfully. We will reflect on the future of global health, on the future role of development cooperation and the role global health stakeholders could/should play in this. We will share experiences, cases, and research results, we hope to land on innovative solutions to real problems while looking beyond the walls of sectors, regions, dogmas, and political beliefs.
Be-cause health, a platform of stakeholders in global health and healthcare both in Belgium and in Low- and Middle-Income Countries (LMICs), wants to go the extra mile. By building on previous Be-cause health events (for instance on urban health, decolonisation, access to quality-assured medicines, SRHR, mental health, health inequity and injustices related to the climate emergencies, etc.), we will further explore global health topics that are left aside, ignored, or only addressed with "a High-Income Country (HIC) gaze."
With this 2023 conference we want to break taboos, gather the knowledge, and practice there is about them, exchange insights and results, learn from successes and failures to rethink the future of global health, by giving a voice to all.