ITM Alumni webinar: "How are health systems in Sub-Saharan Africa adapting to protect human health from climate change threats?"
21/09/2023
ITM Alumni webinar #1: "How are health systems in Sub-Saharan Africa adapting to protect human health from climate change threats?"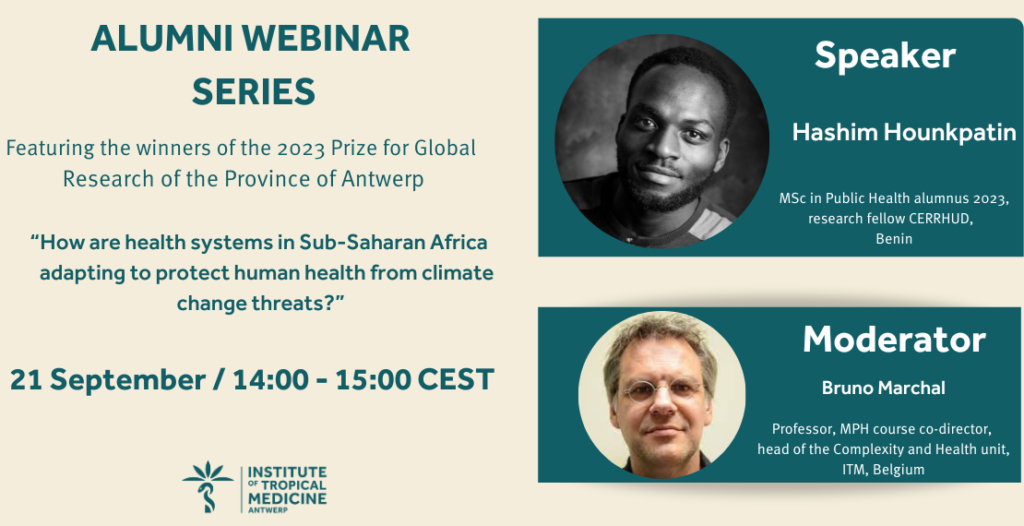 This new series of ITM alumni webinars features the four ITM winners of the Prize for Global Research 2023. The Prize for Global Research is awarded yearly by the Province of Antwerp to research projects of 'master-after-master'-students of ITM and other Higher Education Institutes. Development relevance, quality and originality of the master theses are key in the selection. Through this award, the Province of Antwerp wants to stimulate global research.
In webinar #1, MPH-alumnus and laureate Hashim Hounkpatin (Benin) will share insights from his master thesis, entitled "How are health systems in Sub-Saharan Africa adapting to protect human health from climate change threats?"
In his thesis, Hashim Hounkpatin aimed to contribute to understanding how health systems in SSA are adapting to protect human health from climate change threats. As the body of literature on climate change and health is dominated by impact studies confined to high-income countries, he first conducted a scoping review on the adaptation measures SSA countries are considering in health. Secondly, he carried out a case study on the policy making process for climate adaptation in Benin, focusing on the development of the National Adaptation Plan.
Hashim will present the main findings and outcomes of his thesis and discuss his recommendations and conclusion. The Q&A-session, moderated by Bruno Marchal, MPH-director, will enable to answer questions from the audience and to share experiences from other contexts.
SPEAKER
Hashim Hounkpatin, MPH-alumnus 2023, research fellow CERRHUD, Benin
MODERATOR
Bruno Marchal, MPH-director and head of the Complexity and Health unit, Institute of Tropical Medicine, Antwerp, Belgium
Thanks for sharing the information within your networks!