Health Systems Research 2018
06/10/2017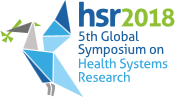 The Fifth Global Symposium on Health Systems Research (HSR2018) will take place in Liverpool, UK from 8 to 12 October, 2018, bringing together approximately 2,000 health systems researchers, policymakers and practitioners from around the world.
HSR2018 just launched a call for abstracts, referring to the Symposium theme "Advancing Health Systems for All in the Sustainable Development Goal Era" and to the four sub-themes:
The SDGs as a stimulus for renewed multisectoral action
Polemic and pragmatism: engaging the private sector in moving towards universal health coverage
Leaving no one behind: health systems that deliver for all
Community health systems – where community needs are located, but often the invisible level of health systems
The deadline for individual abstracts is 5 March 2018 (midnight, Central European Time).
Organized session proposals can be proposed until 15 January 2018.
Keep us updated via becausehealth@itg.be when you plan to attend and please share your ideas with regards to a joint activity as Be-cause health as working group and/or as platform.
DES PRODUITS POUR LE COVID-19 DE QUALITÉ INFÉRIEURE OU FALSIFIÉS : UN RAPPORT EN FRANCAIS
Depuis le début de la pandémie, le Medicine Quality Research Group a identifié 845 articles pertinents sur les problèmes de qualité des produits médicaux pour la COVID-19.

23 & 24 November: Climate Justice and Health Equity
International Conference on Climate Emergency and Health